About Dr. Anil Kumar Dixit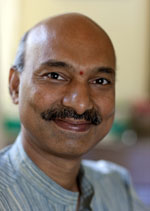 Dr.C.S. Anil Kumar Dixit is a well-known Ayurvedic practitioner and teacher, practicing and teaching for the last 25 years. Having obtained the Bachelor of Ayurveda Medicine and Surgery degree from Bangalore University in 1987 and Doctor of Medicine (Ayurveda,Kayachikitsa) from Mysore University in 1991, he was teaching in Mysore's renowned JSS Ayurveda Medical College since 1997. He also has a Diploma in Naturopathy and Yoga. Particularly interested in Ayurveda Panchakarma therapies for chronic diseases, he has specialized in this area. He has presented scientific papers at various national and international conferences.

For the past 15 years, he has conducted hundreds of workshops for both Indian and foreign students on the fundamentals of Ayurveda and Basic Panchakarma as well as workshops on home remedies for health workers. He has also toured US and Canada for consultations, lectures and conducting workshops on Health through Ayurveda.

As Vice President of the Sanjeevani Prathishthana Trust, and Secretary, Dixit Aarogya Yoga Anusandhaana (DAYA) Charitable Trust, he is actively and passionately involved in the conservation and promotion of medicinal plants, especially those indigenous to India.

In his unstinting efforts to make Ayurveda and its healing wisdom accessible to all, he regularly conducts free Medical Camps for economically poorer sections of society. These camps provide free consultations and medicines and also facilitate follow-up treatment at the Centre where necessary.

Apart from this, he has been an Ayurveda resource person for various organizations and seminars.